Battery Recycling
Lead accumulators are not a part of domestic waste and must be disposed of.
Would you like to dispose of your lead accumulators with us? We accept your batteries free of charge, however you have to bear the costs of delivery. Please return your used battery that you purchased from Phaesun to the following address:
Phaesun GmbH
Brühlweg 9
87700 Memmingen
Germany
Battery law - duty to notify
With this information we perform our duty according to the battery law and refer to the following obligations:
Batteries and accumulators are accepted free of charge after use at the sales point.
The end user is obliged to return used batteries and accumulators.
Explanation of symbol §17 paragraph 1 and the signs after §17 paragraph 3.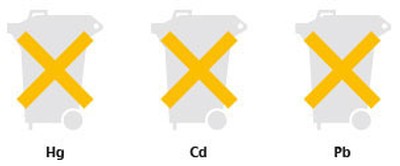 The symbols mean mercury (Hg) if more than 0,0005 mass percent,cadmium (Cd) if more than 0,002 mass percent cadmium and lead (Pb), if more than 0,004 mass percent lead are included.
The disposal of used batteries with domestic waste is prohibited by law.
Protect our nature against environmental damages
Please dispose your used batteries at the sales point.